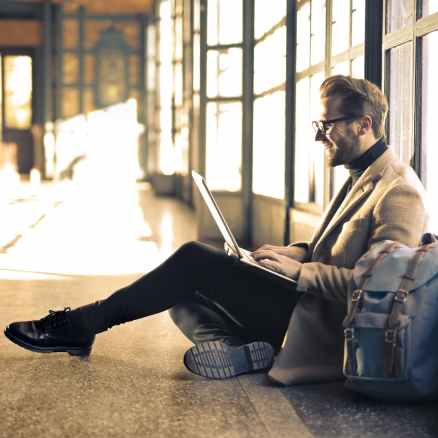 Everyone is looking for ways to make money online. Luckily for you, you've come to the right place, because this post feature 8 ways on how to make money online from basically anywhere around the world. For most of theses methods all you need is a laptop, computer, tablet or phone, and of course a stable connection to the internet.
So lets jump right in to method number one.
How To Make Money Online Method 1-Blogging
Start a blog. Yup, there I said it, chances are you've probably heard this before. Starting a blog can be a great way to start making money online. This method is both passive and active. It's active because in order for your blog or website to rank well on search engines, you not only have to get unique and provide valuable content, but put in work to make your site discoverable using SEO.
Once you've posted some quality content and optimized your site to be found by search engines, you can then apply for your site or blog to be monetized using ads. The most common way to monetize your site is by creating an account with Google Adsense. (Although there are other ways to include ads on your site ergo click bank and Amazon…) Google Adsense is arguably the best.
The best part about this method is that once things are all set up and the traffic flows steadily to your site, your site will be able to make money on autopilot while you sleep.
Don't know what to post about, think of things that inspire you, things that you're passionate about or enjoy doing, because those will be the topics you'll easily find ideas for.
How To Make Money Online Method 2- Sell Your Own Ebook
Selling Ebooks online is one of my favorite ways to make money online. If you're willing to put in the initial work of actually writing the book and promoting it, you can become one of thousands of people who have had huge success selling hundreds, thousands, or even millions of copies of their book to customers all over the world without all the extra terms and conditions of publishing with a traditional publishing firm.
Online book publishing allows you to keep more of the money you make from royalties actually in your pocket and not someone else's. One of the easiest and most popular places to create and sell an Ebook online is with amazon kdp (Amazon Kindle Direct Publishing. Once you upload your ebook, input all your book's information, and upload a cover or create one on the site, your book will be submitted for review, and if accepted will be live and ready to start making sales in less than 24 hours!
How To Make Money Online Method 3- Do Small Tasks Online
Another one of my favorite methods for turning time spent online into real cash is by working on micro work sites like Crowd Source, and Amazon mechanical Turk
After you sign up for one of these sites essentially all you have to do is set up your account and bank account info so you can get paid, then work on hits or tasks that you're qualified for and watch the coins/dollars start adding up.
Mturk is definitely a site where you have to actively work ti complete various tasks such as questionaires tests, and surveys, but unlike most micro task sites Amazon Mturk is actually worth it. Pay can range from as little as $0.01 to $10.00 depending on the task, just as the difficulty level, and length of the task will vary as well. And the best part is, is that you can do these types of tasks almost effortlessly from your laptop tablet or smart phone.
How To Make Money Online Method 4-Surveys
Surveys believe it or not can be an easy way to generate some extra income online, but believe me not all websites or apps offering to pay you for completing their surveys are worth it. Some are just better than others.
I'm sure there is more than one better paying sites offering to pay you cash for your time but to skip all the what ifs I'm just going to tell you my favorites, which are: Qmee, 1Q, and Google Opinion Rewards.
The perks I like best about these three platforms are
They have easy to use mobile apps that can be downloaded on both androids and iphones
They are not time consuming (on Qmee you get to see the length of the survey and how much you'll get paid for it, before even taking the survey, For 1Q for each question you get, the response is pretty straight forward and quick. Google Opinion Rewards surveys typically have 1 to 2 questions that only take about a minute , after which you are rewarded.
Low payout requirements and almost Instantanous payout. For Qmee there is no payout minimum which means you can cash out whenever you have cash in your account, Once you answer a question on the 1Q app you will be immediately credited $0.25 for each question answered to the account on file. Google opinion Rewards has a minimum payout of $2.00, which only takes about a handful of surveys to complete.
All three of these sites can deliver the cash you've earned directly, and immediately into your Pay pal account.
So if you've got a little extra time, and don't mind sharing your your location with these apps you could begin making some extra cash right away.
How To Make Money Online Method 5- Uploading /PPD
Method 5 for earning money online is referred to as uploading. Have you ever seen someone advertising a free course, free software, free ebook, or free pdf file online, and wondered just exactly how they're making money off of essentially free products, well uploading is the answer.
What is uploading? Uploading is when you take a file that you have: pdf, photo, video, document etc. and upload it to a site or PPD (pay per download) network.
Sharing the link provided to you by the PPD network will allow unique users who are interested in downloading your content to be asked a brief survey before downloading the file.
Once the survey is completed you will be credited and the user will be able to download your file. This is especially great if you are someone who wants to offer music downloads, photography, or even secret recipes.
Not all PPD sites pay the same amount, depending on which network you use you can make anywhere from $0.02 to $10.00 depending on your content and the type of PPD methods you use. (Opting to have no survey given before your content can be downloaded will put you at the lowest end of the earning pool.
Here are a few of the top earning PPD Network sites to consider some even offer other ways to monetize your site such as pay per click, and affiliate opportunities
How To Make Money Online Method 6- You Tube
Almost everyone has heard of the video sharing service that has millions of recurrent users visiting it's site and watching over 5 billion videos every single day.
The site which was created in February of 2005 has become one of the most popular streaming services of all time. There are some accounts that generate hundreds, thousands, even millions of dollars per month.
Some people believe that you need to be popular, have a perfect life, or create popular trending content to be successful on You tube but that's not necessarily true.
Sure having lots of followers should bring you more views, and posting trending content may attract some extra views, but will really grow your channel views is posting valuable consistent content about things you're passionate about.
There are tons of popular niches for almost anyone to get started with
Tech Videos.
Gaming.
Product Reviews.
Tutorials.
Storytime Videos.
Vlogs.
Food.
Fashion.
In order to monetize your You Tube channel, You Tube requires you to have at least 10,000 channel and video views. So the sooner you get started creating awesome content, the sooner you can grow your following and start monetizing your everyday passions!
How To Make Money Online Method 7-Leveraging Your Social Media
The greatest part of using social media to jump start your business, is that you can start what with what you already have. Most people have a personal Faceboook, Twitter, or Instagram, chances are you're one of those people, and if you're not that's okay too!
You can easily sign up for an account on one of these platforms for free! Facebook.com Twitter Instagram
Facebook has over 1.5 BILLION users daily
Twitter has 126 million daily users
Instagram has .5 BILLION daily users
Just about everyone you know, and everyone around the world is using social media to reach and connect with friends family and customers. These free platforms even have business tools and business account options which you can use to grow brand awareness pull traffic to your websites, and leverage to make sells.
There are people making millions of dollars off of Facebook and Instagram alone, using ads, to promote links, and products.
There are several ways to leverage the power of Facebook and Instagram to create income, especially if you have a large loyal following.
E-commerrence- selling and Promoting products, clothing, Ebooks crafts, drop shipping product page, promoting your download links
If you have a large following some brands will reach out to offer you sponsorship deals which is another form of affiliate marketing (a lot of social influencers use this)
Brands aren't the ones trying to reach more customers or users, when you have a large following, even people with smaller accounts craving more exposure will reach out to you to collaborate or do a feature. You have the power to make money by charging them reposting and or feature fees
How To Make Money Online Method 8 -Investing In Monthly Dividend Paying Stocks
Just thinking about dividend paying stocks brings a smile to my face. There used to be a stipulation that only the rich could afford to invest in the stock market.
It pleases me to say that anyone can do it and these days with apps like Robinhood and Stash, anyone can create an account with $5 or less, and begin investing.
One of the best perks about these investing apps is that you can buy and trade stock, without a stockbroker, and at little or no cost to you. Robinhood is my favorite because it's absolutely free! There's no fees for having an account, and no fees to buy or trade stocks.
Plus with Robinhood you can also earn free stock just by inviting people to sign up (click to sign up here ) For every person that signs up we both get a free stock!
There are many stocks that pay shareholders dividends, some pay quarterly, but there are even some who pay dividends monthly. Take a second and think about how making a 1 time investment could provide you with reoccurring passive income every month!
Interested in discovering more ways on how to make money online visit back later for info.
Interested in Losing Weight Fast Click Here